SynbiCITE and Imperial College London provides a launch pad for synthetic biology start-ups
We have been running Lean LaunchPad for Synthetic Biology for the past twelve weeks at Imperial College London, aiming to equip inventors in the field with the skills, knowledge and understanding to commercialise their idea.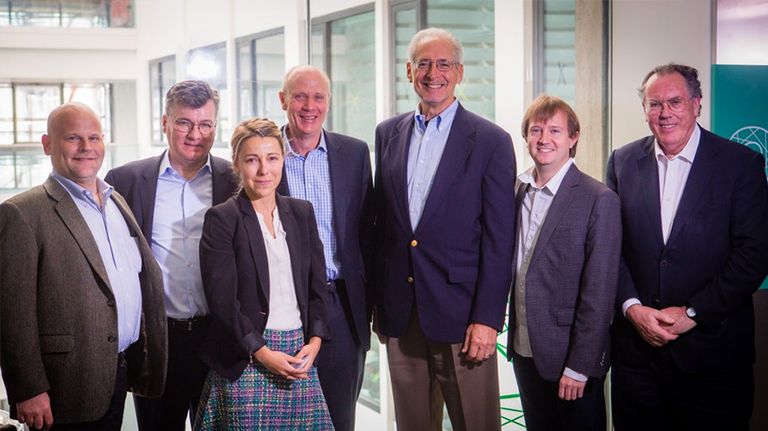 Marking the completion of the programme this week, the Lean LaunchPad teams came together to present their business models and share the lessons they learnt, the skills they developed, and the customers they discovered.

We offer our congratulations to the six teams who successfully completed the programme:
This is the first time that the Lean LaunchPad – the brainchild of US entrepreneur Steve Blank – has been brought to the UK for synthetic biology. Named one of the 30 most influential people in tech by Forbes magazine in 2013, Mr Blank pioneered the Customer Development methodology – which encourages entrepreneurs to put customers at the heart of their product development.

Lean LaunchPad put a focus on participants talking to their target customers – finding out what they want and need, and reiterating and developing their business plan and product according to the insights they gained.
The course was organised through SynbiCITE and Imperial College London. Our aims are to provide a bridge between academia and industry to speed up the development of new technologies in synthetic biology. This programme helps achieve these aims and so was open to students, researchers, and members of our 19 academic and 56 industrial partners.
Team Cellibero, made up of Imperial postdoctoral researchers Dr Richard Kelwick, Dr James MacDonald, and Dr Lorna Ravenhill, presented their range of science education kits based around molecular biology. The innovative kits use a cell-free based system – which is a freeze-dried mix of non-living cellular machinery, derived from harmless bacteria, and DNA, which can be activated by adding water to produce colourful proteins or enzymes that generate scents.
When we began thinking about business ideas, we knew that we wanted to come up with something that we were passionate about and that would really make an impact. As children we remembered playing with chemistry sets and electronics sets, and we wanted to see if there would be a market for a molecular biology equivalent – a way of getting young people excited about the kind of science we do in the lab. We've had a lot to learn over the past 12 weeks, and the Lean LaunchPad process has been a real eye opener to who our customers are, what they want, and how our product can meet their expectations. We're all now looking to take the leap from academia into the business world and hope to soon be in a position to launch our company.
Nanocage Technologies, which included Dr Geoff Baldwin from the Department of Life Sciences at Imperial, and PhD students Marko Storch, Ben Mackrow and Matthew Haines, presented their idea to harness protein nanocages as a cell targeting delivery system for drug therapies. Protein nanocages are tiny structures containing a hollow core capable of carrying compounds. The team outlined how they could be used to transport drugs to the specific cells where they are needed. For example, cancer therapies – which are often toxic – could be delivered directly to cancerous cells rather than to the whole body, reducing their unpleasant side effects.
Lean LaunchPad has been an incredibly interesting process. It has taken us into completely new territory and forced us out of our academic comfort zone. Thinking in terms of commercialisation rather than research really helped us to focus on our business needs. It drove home that no matter how excited we might be about an idea, it isn't going to work if nobody is going to pay for it.
Following their final presentations to an invited audience of funders, investors and journalists, four teams: Chain Biotech, Cellibero, Biowater Solutions and Nanocage Technologies, were invited to present in front of hundreds of delegates at the opening session of SynBioBeta, an international conference held at Imperial that joined thought leaders, entrepreneurs and the academia together to discuss the latest topics and advancements in the synthetic biology industry.
Bringing Lean LaunchPad for Synthetic Biology to the UK
SynbiCITE is led by Imperial's Professor Richard Kitney, from the Department of Bioengineering, and Professor Paul Freemont, from the Department of Medicine at Imperial College London. They brought Lean LaunchPad for Synthetic Biology to the UK when Professor Kitney witnessed the course first hand in San Francisco.

Professor Kitney said: "In November 2013 I was visiting San Francisco on a trade mission relating to synthetic biology. Because I had grown two successful companies, one of our American colleagues invited me to attend an evening session of Lean LaunchPad, led by Steve Blank and Jerry Engel.
"I immediately realised that this was something very special – the participants learned important things about growing companies which had taken me years to understand. At a meeting after the session we agreed to work with Steve and Jerry to create a special version of Lean LaunchPad for synthetic biology at Imperial for the UK community in the field."
Professor Freemont said: "As a co-founder of two companies, I have learned the hard way that new technologies must have customers. The Lean LaunchPad course teaches teams the methodology of customer discovery and the ethos of 'get out of the building' and through this the teams learn in several weeks what most start-ups learn in several years."
"It has been wonderful to watch the teams grow and develop over the last 11 weeks with some of their business ideas and product having changed significantly during that time. I have no doubt that several of the teams will go on and build new successful companies and I am very proud of their achievements."
Stephen Chambers, Chief Executive of SynbiCITE said: "I wish I'd had access to the Lean LaunchPad programme when I was starting my previous companies. Risk will always be part of any start-up, it one of the reasons why business is so exciting. The Lean LaunchPad helps manage that risk, quickly identifying which ideas have commercial viability and saving entrepreneurs both time and money – very precious commodities in any start-up."
"The progress all the teams have made on the programme is very impressive – to develop fully formed scalable business models within 12 weeks is an incredible achievement. With a number of the teams now launching companies based on their business models, I couldn't be more pleased with the outcome of the programme".
SynbiCITE are delighted to announce that we will be running Lean Launchpad for Synthetic Biology again this autumn. Please contact Helen Findon, Communciations and Outreach Manager at SynbiCITE, if you would like to participate!
This article was written by Helen Findon, Communciations and Outreach Manager at SynbiCITE, and Deborah Evanson, Communications and Public Affairs, Imperial College London. The original article can be found on Imperial's news pages.
Share this article: