Start-ups take off at Lean LaunchPad 2
Posted on 1 October, 2015
SynbiCITE to help the latest synthetic biology entrepreneurs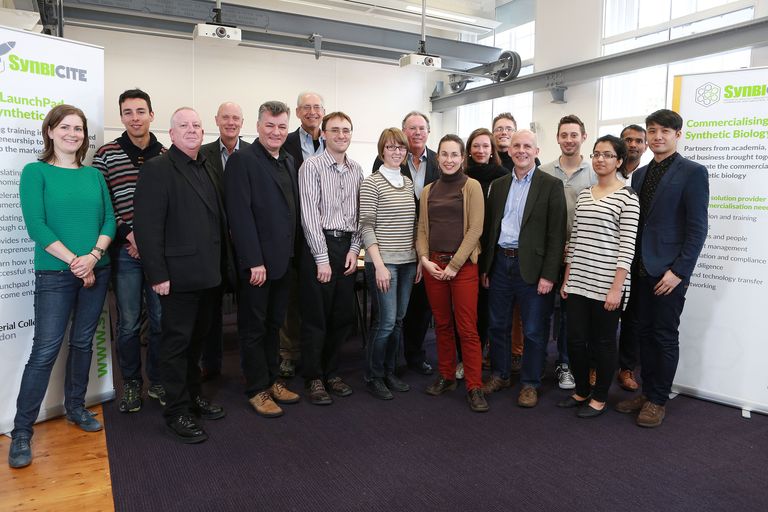 SynbiCITE, the UK's Innovation and Knowledge Centre for Synthetic Biology based at Imperial College London, is running a new Lean Launchpad for budding entrepreneurs wanting to start synthetic biology businesses.
Lean Launchpad creates an entrepreneurial experience, with all of the pressures and demands of the real world in an early stage start-up. It is designed to give scientists and researchers the experience of how to work as a team and turn an idea into a company.
"I wish I had access to the Lean Launchpad programme when I was starting out. Risk will always be part of any start-up, it one of the reasons it's so exciting. The Lean Launchpad helps manage that risk, rapidly identifying ideas that have commercial viability, saving time and money both very precious commodities in any start-up," says Stephen Chambers, chief executive of SynbiCITE.
"This is the second time that we have run the course in 2015 as there is significant and growing demand. We are giving scientists in the UK the chance to get their hands dirty, talking to customers, partners and competitors as they encounter the chaos and uncertainty of how a start-up actually works," he says. "This is a really exciting time to be working in synthetic biology, especially in the UK.
"As someone who has done three successful start-ups, I would say the what the students learn on the course in 10 weeks took me 20 years to learn through experience" adds Professor Richard Kitney of SynbiCITE and Imperial College and one of the teaching faculty on the course. "Watching the teams grow week by week into effective entrepreneurs is very exciting and the final presentations never cease to amaze me given the short time frame of the course" added Professor Paul Freemont.
The 12-week course, aimed at three-person teams interested in commercializing technology for synthetic biology, is a US import from Silicon Valley where they use it to stress test the commercial feasibility of research.
Lean LaunchPad was conceived by Silicon Valley entrepreneur Steve Blank, creator of the Lean Startup movement. It is an experiential entrepreneurship class based the Customer Development process he developed while teaching at Stanford University. UC Berkeley adjunct professor Jerry Engel, a colleague of Steve's who will again teach the Lean LaunchPad for Synthetic Biology, said, "Synthetic biology has huge potential. The Lean LaunchPad programme at SynbiCITE will accelerate the value that this important technology can bring to society and I am delighted to be part of it."
The Lean Launchpad is one of a number of innovation programmes SynbiCITE is running to help would-be entrepreneurs translate their ideas and research in synthetic biology into the marketplace.
The teaching team also includes a number of US and UK entrepreneurs including Richard Philpott (CEO, Burst Energies), David Meinhart (Commodity Vectors), Dr. Stuart Hogarth (Kings College London).
Share this article: