SynbiCITE academics meet Imperial alumni in Beijing
Posted on 23 September, 2015
On 12 September 200 alumni, students, parents, and friends met Imperial's President Alice Gast and heard from leading synthetic biologists in Beijing.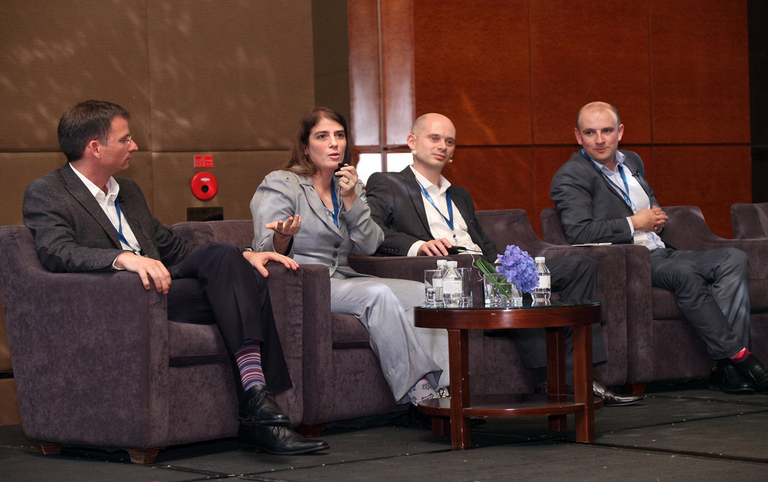 Imperial's SynbiCITE academics (L-R: Guy-Bart Stan, Karen Polizzi, John Heap, Tom Ellis) address the alumni reunion

Speaking to alumni and friends, President Gast said "A great university has great people: incredibly talented academics, brilliant students, and amazing alumni. Many of you in this room are pioneers and risk-takers. Please share your stories with us so we can inspire the next generation." President Gast also outlined the recently published College Strategy and its four themes: foundations, people, partners, and enablers. She also highlighted the fact that Imperial was the leading university in the UK for research and industry collaboration with Chinese partners.

Four of Imperial's leading synthetic biologists, who had recently delivered presentations at the prestigious World Economic Forum in Dalian, were introduced to the crowd by Professor Maggie Dallman (Associate Provost, Academic Partnerships). She described synthetic biology as a 'brave new world' that works to benefit society, and praised the academics for working at a frontier of science.
Dr Tom Ellis explained how synthetic biology uses tools and methods derived from engineering to make 'designer' cells, noting that his laboratory was making penicillin from yeast. Dr John Heap told the audience that to overcome the limitations of conventional microbes like yeast, his laboratory was working on exotic microbes with special properties, like the ability to make chemicals from waste. He explained that one of their key challenges was to recreate in a laboratory the exotic climates usually inhabited by the organisms they work with.
The role that biosensors can play in identifying when cells become 'unhappy' was discussed by Dr Karen Polizzi. Understanding this role offers hope for coming up with ways to scale-up findings in the laboratory into commercial endeavours. Dr Guy-Bart Stan then spoke about the use of feedback control, derived from engineering, and how it allows the development of controlled cell-based systems, which could produce and release drugs, or nutrients on demand when and where these are needed in the body. This could be used, for example, to maintain sugar or cholesterol levels within desired ranges, treat metabolic disorders or improve body functions.
Fangliang Li (BSc Earth Science 2009, MSc Environmental Engineering 2010) said, "It's wonderful to see the changes at Imperial and all the new innovations. Every year I come to see new graduates and old friends – this is my fifth reception!"
Hongze Zou (current Mechanical Engineering student) said, "I think it's a terrific event. I wanted to meet the President in person because she's the figurehead of Imperial, and I like having the opportunity to ask her some questions."
In her remarks to the crowd, Nicola Pogson, Director of Alumni Relations said, "We're delighted to be here - Imperial has over 180,000 alumni, with 6,000 living in China and 1,000 based in Beijing. It's an exciting time for alumni relations at Imperial with the establishment of the Advancement team, and we are working to build an ever-stronger alumni community able to benefit from, and be proud of, their lifelong connection with the College."
The evening was organised with the Imperial College Alumni Association of China, in particular the Beijing chapter, and the event was supported by many alumni volunteers including Zhuohui Luo (MBA 2001), Secretary of the Beijing chapter, who returned to China after completing his MBA at Imperial to manage the manufacturing business of the Planning Department of China National Petroleum Corporation. Also in attendance was Frank Scheibe (MEng Electrical & Electronic Engineering 2003) who followed his passion for cars to McLaren and BMW in Munich after leaving Imperial, and is now Senior Manager for R&D at BMW Beijing.
Share this article:
Related partners