International Genetically Engineered Competition (iGEM) 2016
Posted on 4 November, 2016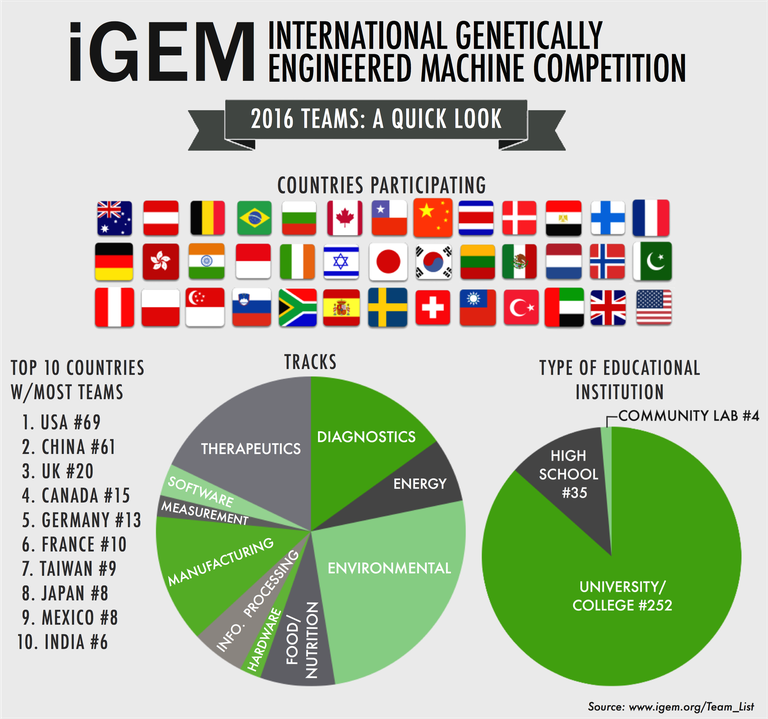 The 2016 Giant Jamboree took place at the Hynes Convention Center in downtown Boston last week (Oct 27-31). This event brings together students from around the world to take part in the International Genetically Engineered Machine (iGEM) competition. Over the summer student teams have been working with standard DNA parts to build biological system that can operate in living cells. The culmination of this work was revealed last weekend when the teams presented their synthetic biology projects and compete for the coveted prizes. This premiere synthetic biology student competition run by the iGEM Foundation began in January 2003 as an independent study course at the Massachusetts Institute of Technology (MIT) where students developed biological devices to make cells blink. This course became a summer competition in 2004 with 5 teams, this year it has expanded to 300 teams from more than 40 countries. The competition was originally aimed at students attending college but has grown to include participants from high schools and community labs. The competition's projects also grew in complexity. Separate tracks where introduced to the competition to give the teams focus areas for their projects and Regional Jamborees and World Championships have also been organized. Past projects have ranged from a rainbow of pigmented bacteria, to banana and wintergreen scented bacteria, to the development of an arsenic biosensor to screen bacteria.
Following the iGEM experience, many students have been inspired to commercise their projects and embark on an entrepreneurial career. Ginkgo Bioworks (iGEM'04), Eligo BioScience (iGEM '10), LabGenius (iGEM '11), Bento Labs (iGEM '13), CustoMem (iGEM '14) have all had their start in iGEM. The teams taking part this year continued to maintain the high standard of projects, which have come to characterize the competition. There are 10 different tracks to which projects can be assigned in iGEM, this being synthetic biology, they range from therapeutics & diagnostics to software & hardware. The info graphic prepared from data taken from the 2016 iGEM team list (www.igem.org/Team_List) shows the range and numbers of projects submitted, and the global distribution and the type of institution taking part.
This year's overall winner was from Imperial College's Departments of Bioengineering and Life Sciences and is the first team from Imperial to win the prestigious award. The team's project, ecolibrium is focused on developing a framework for engineering co-cultures in synthetic biology. In addition to winning the iGEM Jamboree the Imperial team also won five other major prizes, including "best foundational advance project" winning their competition category, "best poster" and "best education and public engagement" for their 'Go Culture' game. Many other UK iGEM teams came away with nominations, with honors going to University of Cambridge & John Innes Centre for "best plant synbio", and University of Manchester for "best model".
Share this article: