Steve Bates brings synthetic biology to Buckingham Palace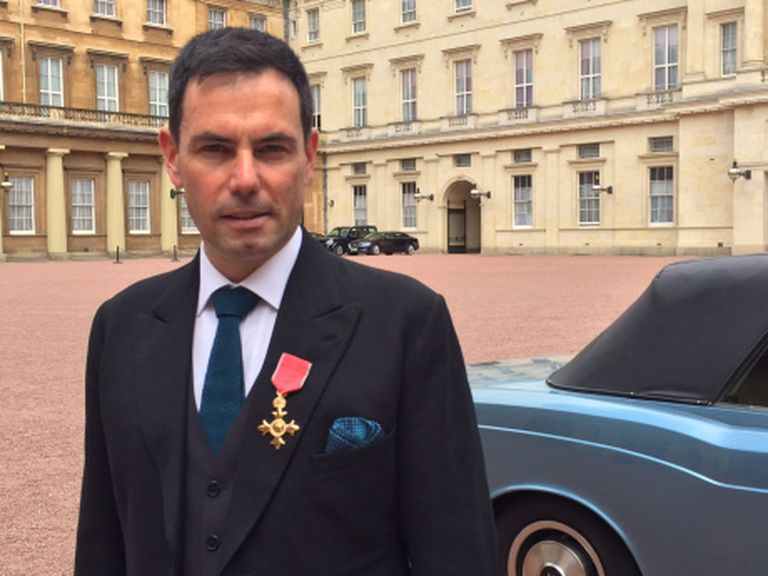 Innovation meets tradition as Steve Bates, CEO of BIA, becomes the first person to wear spider silk while being honoured at Buckingham Palace.
Debrett's guide to Etiquette tells us that it is traditional for British men to wear Morning Dress at weddings, formal memorial services, some official functions and formal daytime events in the presence of The Queen. So that is what I'll be wearing when I have the honour of collecting my OBE for innovation at Buckingham Palace this week.
The style guide is clear – "A black or grey matt morning coat, single-breasted with peaked lapels, curved front edges sloping back into tails. Trousers are grey or grey and black-striped. A white or light-coloured shirt with a white turned-down collar, double-cuffs and cufflinks. Ties are preferred to cravats. A smart woven silk tie is acceptable."
However, being honoured for innovation, I am determined to add a modern twist to the traditional look and will be wearing a knit tie made from a brand-new fabric called spider silk – the only one of its kind at present in Europe, and the first time ever such a tie has been worn at a formal occasion with British royalty.
This new material is made by the company Bolt Threads using biotechnology. It comes from studying silk proteins found in nature, determining the genetics behind their incredible properties, and then designing genetically engineering yeast to produce silk proteins akin to these natural spider silks. These silk proteins are spun into fibres, which are subsequently knitted or woven into fabrics and garments.
Bolt Threads first prototype product is a spider silk knit tie. Spider silk is a fibre known for its high tensile strength, elasticity, durability and softness. It's likely that running shoes will be the next prototype product available on the market.
In the coming century, we will see lots of applications of engineered biology replacing carbon intensive processes as we move to a post-oil era of greater sustainability. The UK has a pioneering lead in some great science and the opportunity to build global companies that can exploit this emerging technology.
Steve Chambers, CEO SynbiCITE, commented: "This advance of synthetic biology into everyday life is just one indication of the exciting progress currently taking place in this field. Widespread and consistent innovation in the sector is sure to pave the way towards the application of engineering biology throughout our society."
I'm looking forward to discussing this unusual fashion statement with one of the style icons Prince William, his dad or the Queen. Fabrics, fragrances, foods and medicines can all be made and improved using these processes – I'm hoping I get the chance to discuss this on the day. It is humbling and a privilege to be recognised with an OBE in the Queen's New Year's Honours list and I'm proud to be wearing a piece of biotech in action on the day of my investiture.
By Steve Bates, CEO, BIA
Share this article: