Lean LaunchPad for Synthetic Biology Review
Posted on 8 December, 2016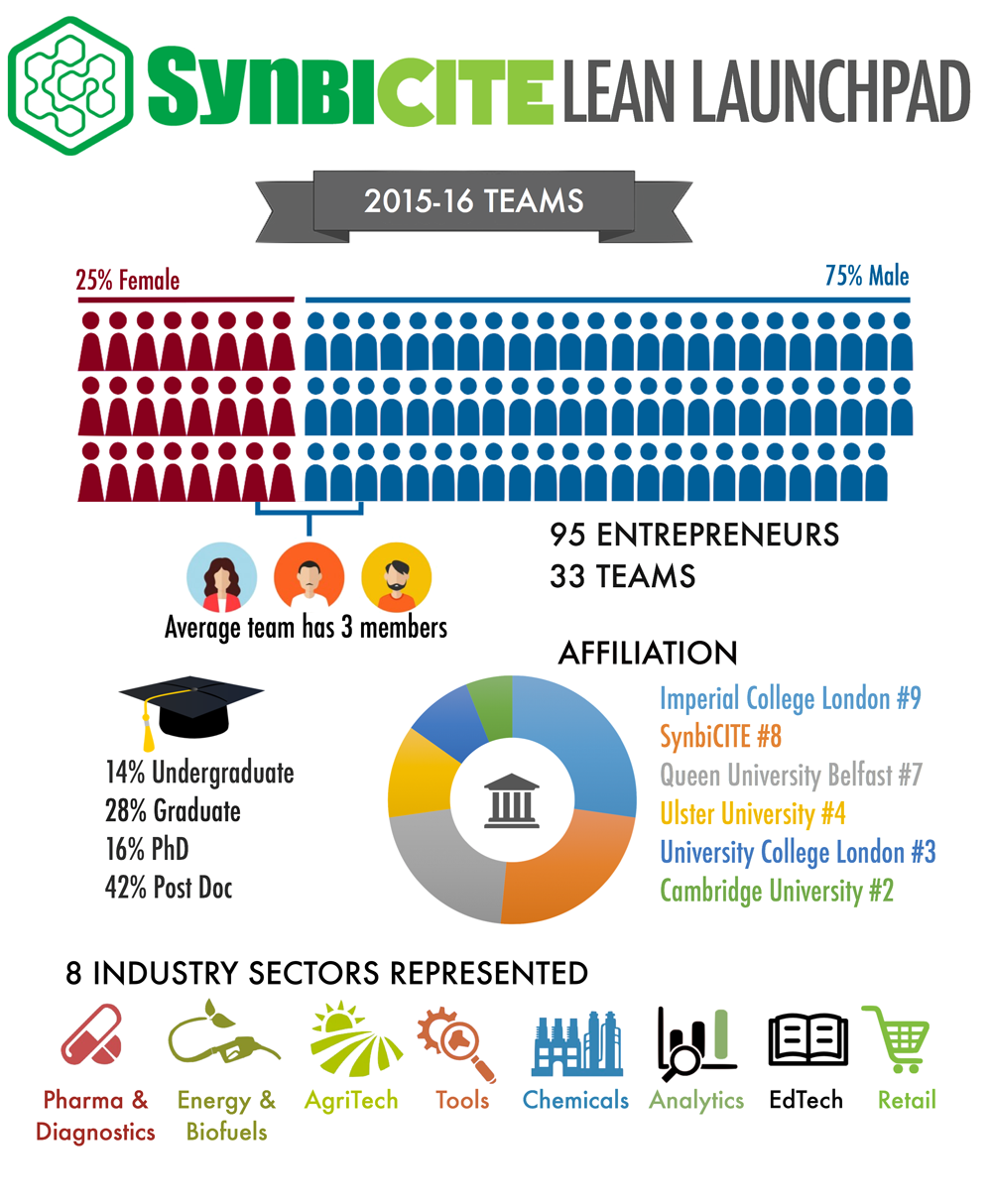 As this Autumn's Lean Launchpad for Synthetic Biology drew to a close, the teams described the lessons learned from the programme. William Pelton who co-founder of Phytoform with Nicolas Kral, "… now believe(s) that the evidence-based entrepreneurship as well as customer discovery are essential practices…to support our budding venture."
From projects exploiting the latest gene editing techniques in plants to purification of micro-pollutants using engineered bacteria, they all shared a common purpose in turning some of the most exciting applications for synthetic biology into ideas that would translate into successful business propositions.
The Lean LaunchPad programme brings together scientists and engineers looking to commercialise their ideas. By exposing them to the rigours of the market place it provides an ideal pre-accelerator environment in which to translate research ideas into successful products and services. Over a 10-week period participants are challenged by mentors and entrepreneurs, testing their assumptions about the scalability and impact of their idea by 'getting out of the building' and talking to potential customers, partners and competitors.
"Lean Launchpad was a brilliant experience! It took us from a vague idea to a concrete product and plan for the future." said William Pelton. "We met loads of likeminded people on the course and being forced to get out of the building was both challenging and a lot of fun."
Since its introduction at SynbiCITE over two years ago, the Lean LaunchPad has trained 95 would-be entrepreneurs (comprising of 33 teams with 3:1 male: female ratio). The programme has been run at two sites (London and Belfast), drawing on Universities and start-ups from around the UK. Post-doctoral candidates have shown the greatest interest, constituting 42% of participants, with Graduates following closely at 28%. Interestingly, despite taxing course work and demanding supervisors, undergraduates and PhD student teams have been well represented in applications, at 14% and 16% respectively. Of the projects successfully commercialised by the teams, an even distribution across a wide number of industrial sectors has been observed.
For more information on the Lean LaunchPad or any of the entrepreneurial activities which take place a SynbiCITE please contact: stephen.chambers@synbicite.com
Share this article: